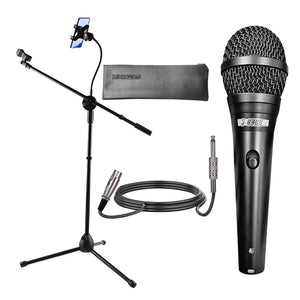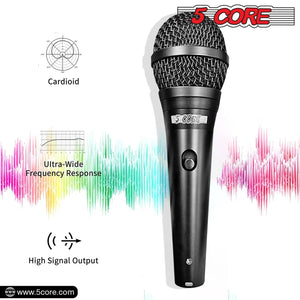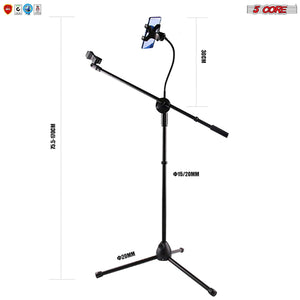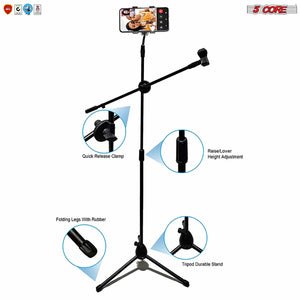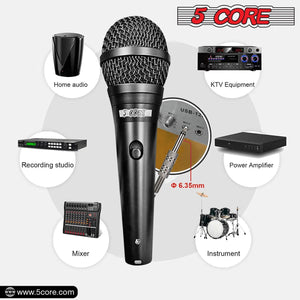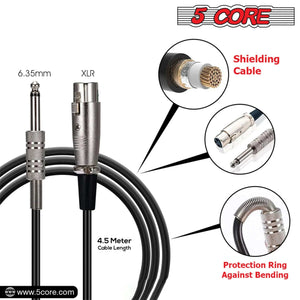 Mic Stand with Tablet/Phone Holder+Dynamic Mic MS MOB+ND58
Regular price
Sale price
$54.52
---
About Item
Package includes:

 

This is a Performance Kit which includes (1) Dynamic Microphone, (1) XL cable, (1) Adjustable microphone stand with phone holder. Everything you need to start your recording session or live performance is in one place.

Dynamic microphone:

 

The dynamic microphone has a built-in acoustic pop filter for voice clarity, high signal output, and low noise circuitry. It features a power switch, rugged construction, and a metal mesh grill for protection.

Leave background noise behind:

 

With a cardioid polar pattern, this microphone rejects feedback and focuses on voice reproduction. Its frequency response emphasizes vocal intelligibility with a presence peak.

Height adjustable:

 

The 5 Core tripod microphone stand smoothly adjust from 75.5-170 cm (2.4-5.5 ft). The gooseneck phone holder extends up to 30 cm, providing perfect placement for stage performances, karaoke, or recording.

Boom arm extendable:

 

The adjustable boom arm makes this microphone stand flexible and easy to use. The knob-locking mechanism keeps the stand elevated securely.
Product Description
Introducing the ultimate performance package MS MOB+ND58. It includes a dynamic mic with a built-in pop filter and a height-adjustable tripod stand with an expandable boom arm. Experience exceptional voice clarity with high signal output and low noise circuitry. The cardioid polar pattern eliminates background noise, while the tailored frequency response enhances vocal intelligibility.

Easily adjust the stand for perfect placement. This package is designed for convenience and is portable and sleek with a black finish. Upgrade your sound, captivate your audience, and unleash your potential with this professional-grade microphone and stand combo.
At 5 Core, Customer satisfaction is our priority—a proven track record of delivering the highest quality product since 1984.

Features

| | | | |
| --- | --- | --- | --- |
| Exceptional voice clarity | Reliable performance | Versatile positioning | Durable and portable |
| The dynamic mic in this package is specifically designed with an integrated pop filter & high signal output; it ensures outstanding voice clarity. | The mic features low-noise circuitry, which helps reduce unwanted background noise & ensures a clean audio signal. This allows for professional-grade performance. | The height-adjustable tripod stand and extended boom arm provide versatile microphone position based on your needs or preferences. | The rugged construction of both the mic and stand ensure long-term durability, making them suitable for frequent use in harsher environments. |
Technical Specifications of Mic
Type: Dynamic

Polar Pattern: Cardioid

Sensitivity: 2 mv/pa

Frequency response: 50-16000 Hz

Cable Length: 16 feet
Technical Specifications of Stand:
Material- Metal

Height- Adjustable

Mic clip- Adjustable

Phone holder- Adjustable
Package Include:
1x Mic Stand

1x 16 ft XLR cable

1x Dynamic Metal Mic

1x Carry Bag
Usages

The combo is perfect for broadcasting.
Well suited to be used on karaoke nights.
The dynamic mic & mic stand suitable for live performance.
Well suited for recording vocals or instruments in the studio.
The stand with a phone holder is perfect for podcasts & live streaming.


Benefits of products

Flexible gooseneck with phone holder.
Precise and accurate sound production.
Rugged and adjustable stand with boom arm.
Low noise circuitry minimizes the background noise.
High signal output for robust & powerful performance.


Benefits of 5 Core over other products
Reduces feedback and unwanted noise.
Perfect for studio, karaoke, studio, and more.
Adds a professional touch to stage performance.
Sleek and stylish design for a pleasing appearance.
Versatile usage in live performance, recording, podcast, and more.


Why 5 Core

5 Core has been known for producing high-quality, premium products since 1984.
We are committed to using only the best materials and components to ensure the longevity of our products.
The best deals compared to other brands in the market without compromising on quality.
The trustworthy choice for thousands of customers scattered worldwide in more than 65 countries.
Backed by a proven track record of happy customers and peace of mind.

Comparison
| | | |
| --- | --- | --- |
| Specification | 5 Core Product | Other Product |
| Versatile | Yes | No |
| Flexible | Yes | No |
| Convenience | Yes | No |
About Brand
5 Core, headquartered in California, warehouse in Bellefontaine, OH, USA, has a reputation for being a trusted and reliable brand, offering products designed to meet the highest industry standards. Our products are thoroughly tested and inspected before they are sent to the end user, ensuring that the customers receive products of the highest quality and reliability. With a commitment to quality, affordability, and customer satisfaction, 5 Core is a brand people can trust for all their needs and wants.
Q&A
Question: Does the package come with cable?
Answer: Yes, the package comes with an XLR cable.
Question: Can I use this microphone with any amplifier?
Answer: Yes, but make sure the connection is XLR.
Question: Can I use the mic for recording?
Answer: Yes, absolutely! The dynamic mic is versatile and suitable for recording a wide range of musical instruments.
Question: Does the microphone require batteries?
Answer: No, the dynamic microphone does not require batteries. It operates using the signal from the connected device, making it convenient and hassle-free to use.
Question: Is the tripod stand adjustable?
Answer: Yes, the tripod stand included in this package is height adjustable. It can be smoothly raised or lowered to accommodate different performers or recording setups, providing optimal positioning and comfort.